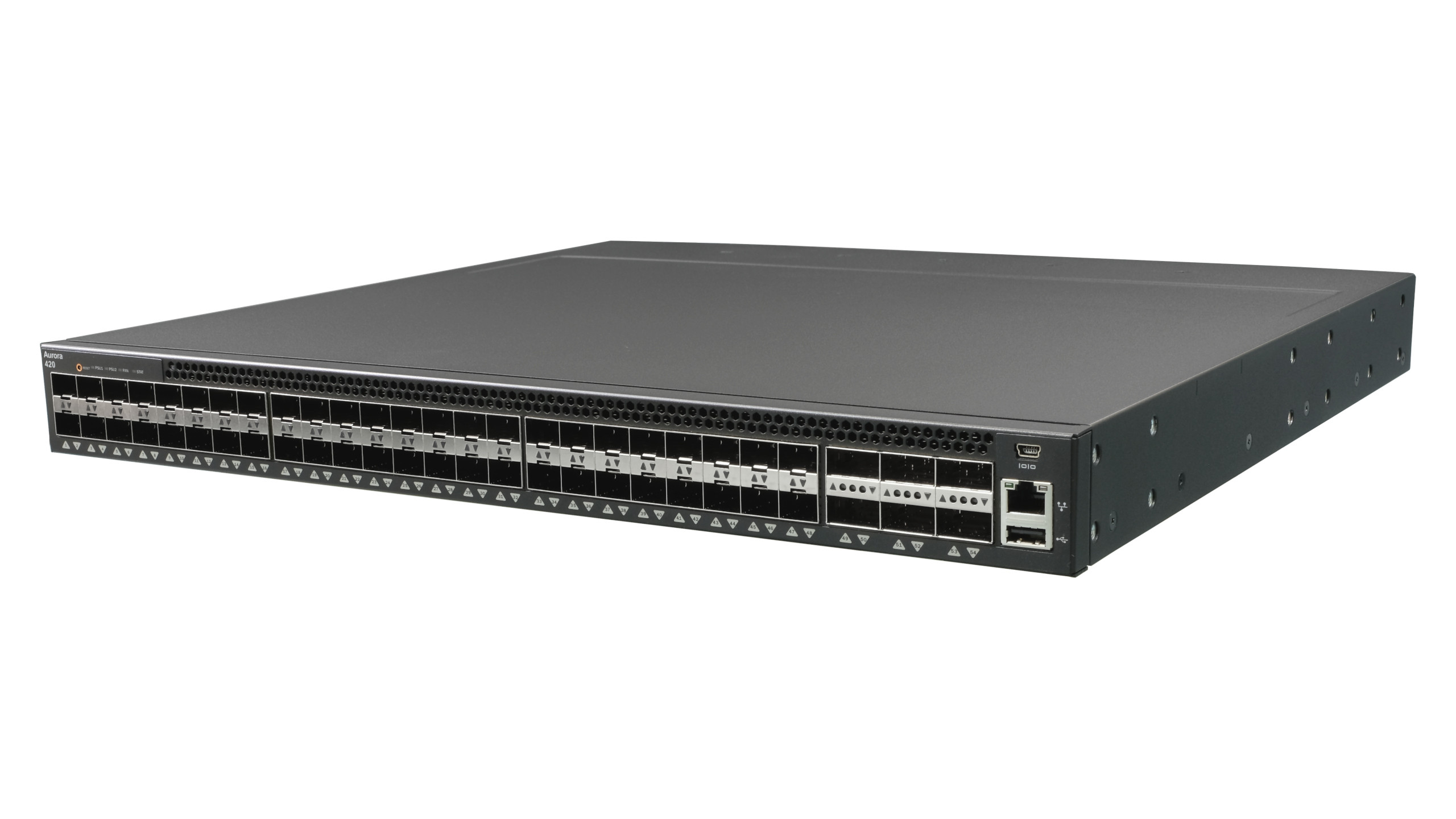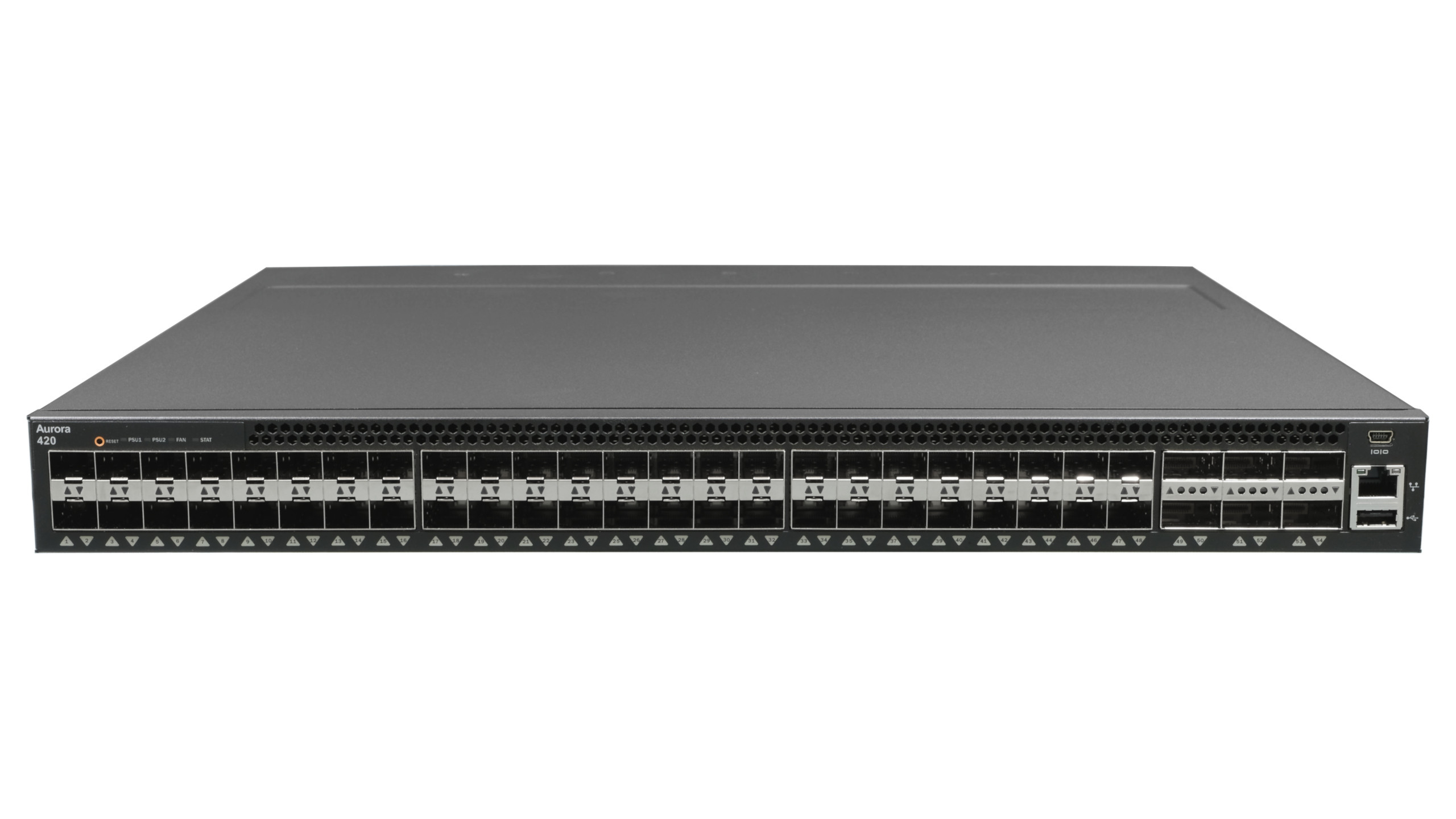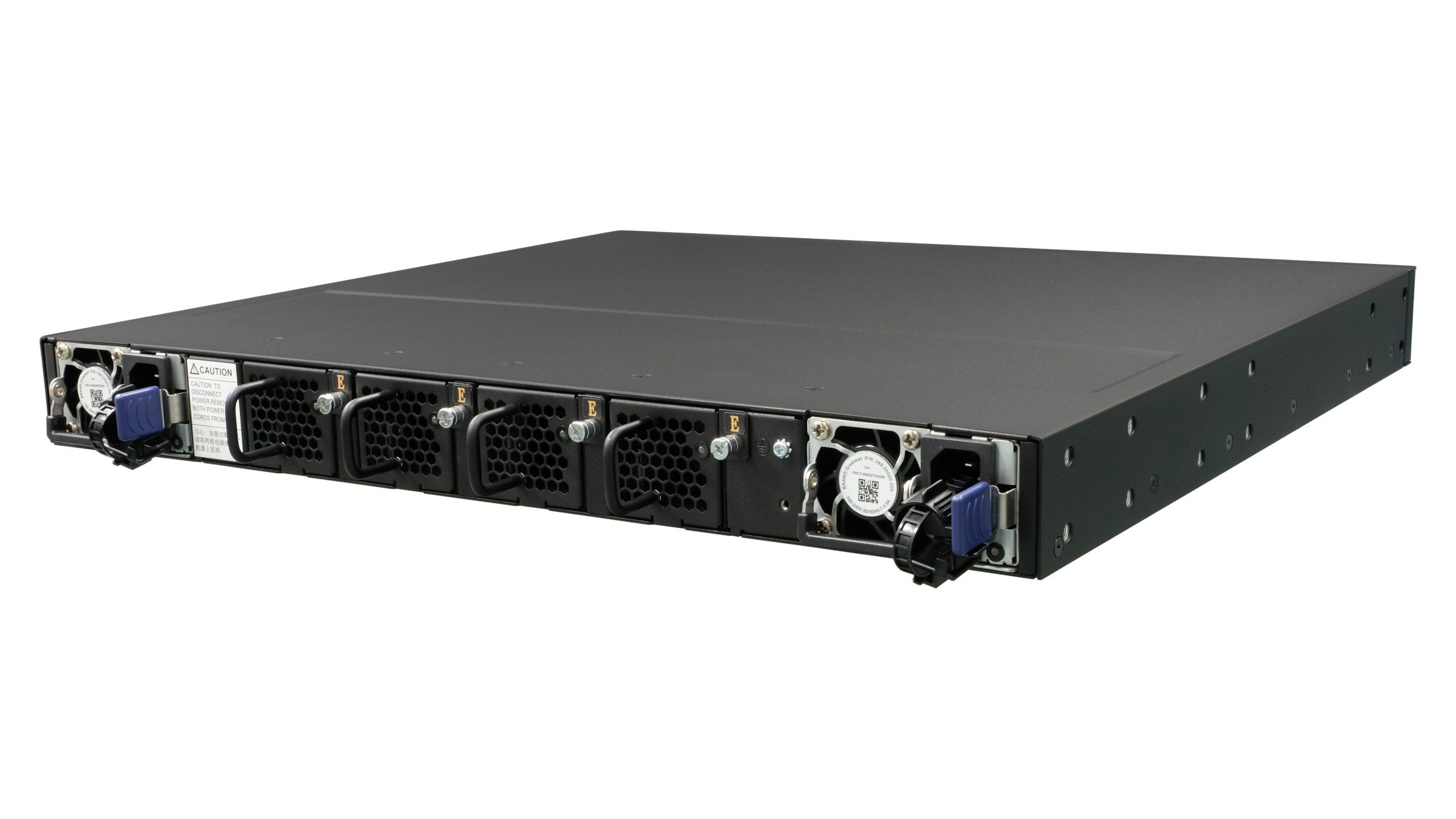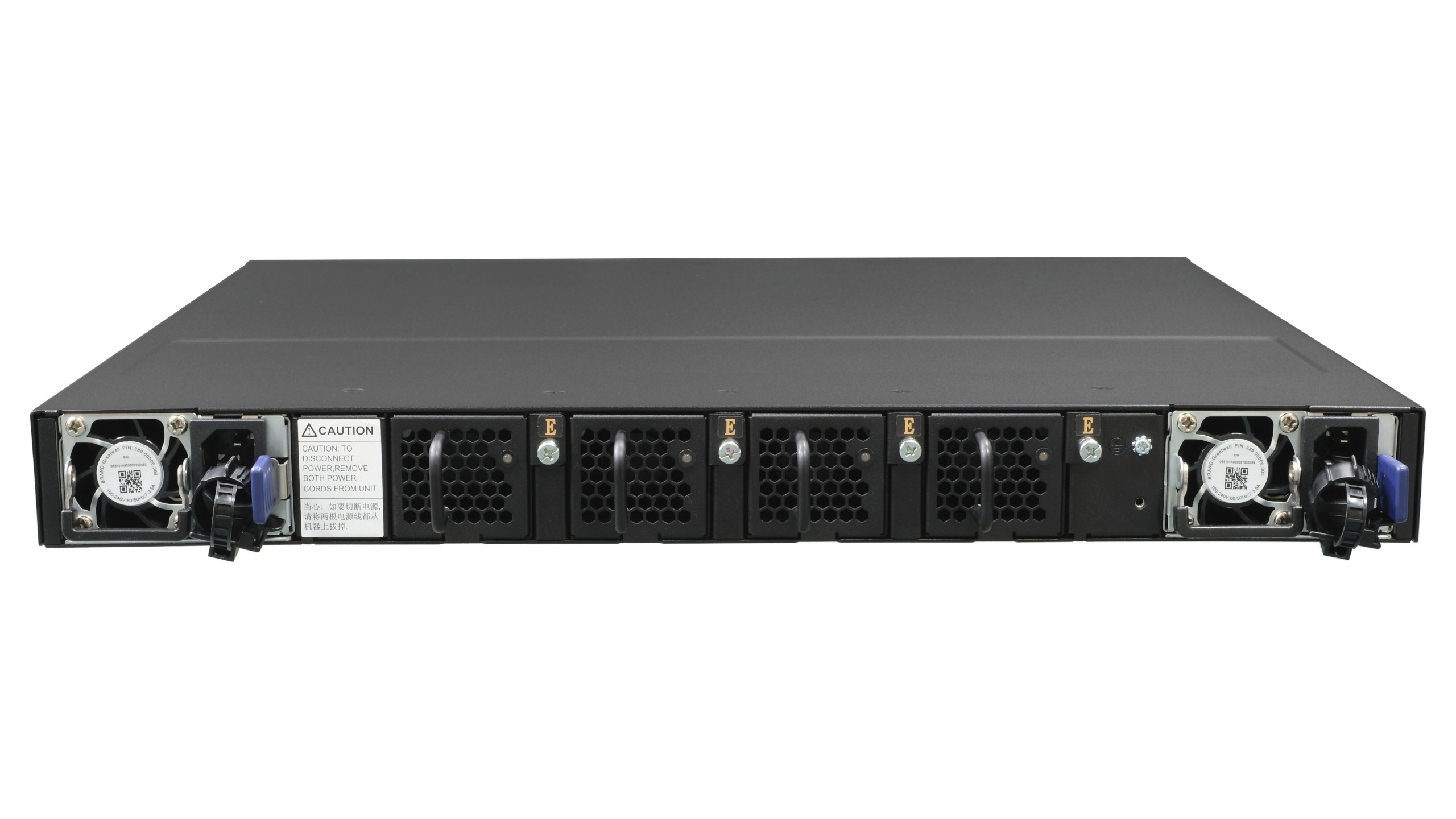 The Aurora 420 is a cost-effective 10G switch suited for Top-of-Rack/Spine Datacenter, Enterprise, and Cloud Service Provider network deployments. It is a true PHY-less design in a compact 1RU form factor.
The Aurora 420 provides full line-rate switching at Layer 2 or Layer 3 across 48 x 10GbE ports and 6 x 40GbE uplinks. Comprehensive overlay and tunneling support including VXLAN, NVGRE, MPLS.
Performance is backed by quad-core Intel Atom processor, up to 16GB DDR3 memory and 64GB SSD drive for application deployment. RAS features include a redundant hot-swappable power supply (1+1) and fans (N+1). x86-based control plane provides access to an ecosystem of the same Linux applications that are deployed on servers.
Extensive SW support includes multiple options, from traditional feature-rich L2/L3 stacks like ICOS to open-source SONiC and advanced NPB suite from InfiniCore.


Available in Back to Front (BtoF) and Front to Back (FtoB) airflow configurations.
Leaf-Spine architecture
With new networking paradigm in modern DC, Aurora 420 is great for Leaf tier or distribution switch in 1G environment. You can achieve number of advantages over traditional Core/Aggregation/Access approach:
Two-tier fabric with near-optimal subscription ratio
Easy scale to hundreds of nodes
Energy Efficient
Lower latency
Simplified deployment
With full Open Network Install Environment (ONIE) support, network operators can install the target Network Operating Systems (NOS) as part of data center provisioning, in the fashion that servers are provisioned.
Performance
48x 10G SFP+ + 6x 40G QSFP+ in 1 RU
720Gbps Broadcom Trident 2 BCM56854
1071 million packets per second
Intel Atom 2558 quad core processor for application deployment
Up to 16GB of DDR3 memory (8GB default)
Reliable hardware platform
Redundant 550W 1+1 power
Redundant N+1 cooling
Network OS (NOS) options
Broadcom ICOS - Web-scale NOS with traditional L2/L3 functions and management, with an API structure for third-party apps and integration with provisioning and orchestration systems.

Latest ICOS release runs in OS-as-a-service mode and supports the use of Linux shell tools for management, provisioning, application deployment and orchestration enabling customer a seamless path to network modernization for network virtualization, SDN, SDDC, and NFV.
Open Network Linux is a Linux distribution for "bare metal" switches, that is, network forwarding devices built from commodity components. ONL uses ONIE to install onto on-board flash memory. Open Network Linux is a part of the Open Compute Project and is a component in a growing collection of open source and commercial projects.

OpenNSL and OF-DPA 3.0 are available on request.
OpenSwitch - an open source, Linux-based network operating system (NOS) designed to power enterprise-grade switches from multiple hardware vendors that will enable organizations to rapidly build data center networks that are customized for unique business needs.

Now integrated with OF-DPA 3.0 and OVS for a seamless OpenFlow support.
Microsoft SONiC - a collection of networking software components required to have a fully functional L3 device. It is designed to meet the requirements of a cloud data center. It is fully open-sourced at OCP.
Specification
MSRP
Buy Broadcom Trident 2 in Aurora 420 switch preloaded with ICOS for US$5,000
Ports
48x 100M/1G/10GbE SFP+ + 6x 40GbE QSFP+ ports in 1 RU
Up to 72 x 10G SFP28 ports via break-out cables
1x RJ-45 out-of-band (10/100/1000) management
1x mini-USB console (RS232)
1x USB
Front IO
Fan LED
System status LED
PSU1 status LED
PSU2 status LED
Reset button
Performance
Switching silicon: 720Gbps Broadcom Trident 2 BCM56854
Forwarding rate: 1071Mpps
Latency: <700 ns (PHY-less)
MAC table: Unified Forwarding Table (UFT)
Packet buffer: 12MB
Intel® Atom™ Processor C2558

8GB DDR3
64GB SSD
Power
Up to 200W (48 SFP+ ports with DAC, 6 QSFP+ port with DAC at 100% load)
550W 1+1 RPSU 80+ Platinum
100V~240V AC / 50~60Hz
240V DC

800W 1+1 -40V~-60V DC RPSU (option)
Cooling
4 N+1 redundant fans
Front-to-Back/Back-to-Front airflow
Dimensions (DxWxH)
1U, 410 x 440 x 44 mm
Rackmount kit (option)
Environment
Operating temperature: 0~45°C
Operating humidity: 20-95% maximum relative humidity (non-condensing)
Warranty
3 year
EMC and safety
FCC
CE
CE Declaration of Conformity
Reduction of Hazardous Substances (RoHS) 6

Compatible NOS
ONIE bootloader
Open Network Linux, the open-source, OCP reference NOS with Open Network Switch Library (OpenNSL) and OF-DPA 3.0
ICOS
OpenSwitch
SONiC (Software for Open Networking in the Cloud)
ICOS
ICOS 3.2 software stack implementation. To be updated along with the development.
Check the intro here.

NOTE: Please check this article on VxLAN configuration and routing.

Layer 2 features

L2 MAC address table: 288K

Link aggregation:
* 802.3ad with LACP
* Cisco EtherChannel
* Max number of group: 8
* Unicast/Multicast traffic balance
* Virtual Port Channel (MLAG)

VLAN:
* IEEE 802.1Q
* Port-Based
* Private VLAN
* Voice VLAN
* Q-in-Q

Spanning Tree:
* IEEE 802.1D
* IEEE 802.1w
* IEEE 802.1s
* Spanning Tree Fast Forwarding
* Edge port (same as Fast Forwarding)
* Auto Edge
* BPDU Filter/Guard
* Loop Guard
* TCN Guard
* Root Guard

Storm Control:
* Broadcast
* Unknown Multicast
* DLF (Unknown Unicast)

IGMP Snooping:
* IGMP Snooping v1/v2/v3
* IGMP v1/v2 querier support
* IGMP Immediate Leave
* MLD Snooping
* Jumbo frame
* IEEE 802.3x Flow Control

IPv6
* V4/V6 dual stack
* ICMPv6
* ICMPv6 redirect
* IPv6 Path MTU Discovery
* IPv6 Neighbor Discovery
* Stateless Autoconfiguration
* Manual Configuration
* DHCPv6
* SNMP over IPv6
* HTTP over IPv6
* SSH over IPv6
* IPv6 Telnet support
* IPv6 DNS resolver
* IPv6 RADIUS support
* IPv6 TACACS+ support
* IPv6 Syslog support
* IPv6 SNTP support
* IPv6 TFTP support
* Remote IPv6 ping

QoS features
* Number of priority queue: 8
* Scheduling:
** WRR
** Strict priority
** Hybrid (WRR+Strict priority)
* WRED-ECN
* CoS:
** 802.1p-based CoS
** IP TOS Precedence based CoS
** IP DSCP based CoS
** WRED based CoS
* DiffServ:
** 32 classes
** 13 rules per class
** No. class in policy: 64
** No. policy in class: 28
* Auto VoIP

Layer 3 Features
* Number of IP interfaces: 128
* Multinetting/CIDR
* /31 subnet support
* IP ARP
* Proxy ARP
* Local proxy ARP
* IRDP
* Static route
* ECMP
* OSFP v2/v3
* BGP v4/v6
** RFC4893
* Virtual routing and forwarding (VRF) awareness in BGP:
** BGP extended communities
** BGP route leaking
** BGP dynamic neighbors
* Multicast:
** Multicast groups
** IGMP v1/v2/v3
** MLD v1/v2
** DVMRP
** PIM-DM v4/v6
** PIM-SM v4/v6
** IGMP proxy
* VRRP
* Loopback
* Routes:
** IPv4
** IPv6
** ARP entry
** ND entries
** IP IGMP/MLD
** PIM-SM/DM v4/v6
** DVMRP
* Source IP configuration
* Policy-based routing (PBR)
* IPv6 Tunneling
* IPv6 Loopback
* DHCPv6 relay
* DHCPv6 server

Security
* Static/Dynamic Port Security (MAC-based)
* 802.1x:
** Port based
** MAC based
** VLAN assignment
** Guest VLAN
** Unauthenticated VLAN
** QoS assignment
* ACL:
** L2: MAC SA/DA, CoS, EtherType
** L3: IPv4 SA/DA, subnet based
** L3: IPv6 SA/DA, flow-label, DSCP
** L4: TCP/UDP port
** Time-based ACL
** ACL counters
* RADIUS:
** Authentication
** Accounting
* TACACS+:
** Authentication
* HTTPS & SSL
* SSH 1.5/2.0
* User authentication:
** Local
** RADIUS/TACACS+
** AAA
* DoS control
* MAC filter
* IP Source Guard
* Dynamic ARP inspection
* DHCP snooping
* Control Plane Policy (CoPP)

Management
* Standard Linux shell tools
* Linux application integration
* Industry standard CLI
* CLI filtering
* Telnet/SSH
* Software/configuration upload/download using TFTP/XMODEM/HTTP/FTP/SCP/SFTP
* SNMP v1/v2c/v3
* RMON 1,2,3,9 groups
* BOOTP client/relay
* DHCP:
** Client
** Server
** Relay
** L2 option 82 relay
** L3 option 82 relay
* Event log
* DNS Client
* Utility: remote ping, traceroute
* SNTP v4
* LLDP: 802.1AB, 802.MED
* CDP
* UDLD
* Port mirroring:
** SPAN: one-to-one, many-to-one
** SPAN with ACL filter
** SPAN with VLAN
** RSPAN
* sFlow v5
* Cable test
* Email alerting
* Auto install
* RESTCONF interface
* NetSNMP

Data Center
* ONIE enabled boot loader
* FIP snooping
* Congestion Notification (CN)
* ETS
* PFC
* DCBX for PFC (CEE v1.0)
* DCBX for ETS (CEE v1.0)
* OpenFlow 1.3
* Open Ethernet Networking (OpEN) API
* Puppet/Chef support
* VXLAN
* NVGRE

OpenSwitch
OpenSwitch Release 2.0.4

Layer 2 features

*L2 MAC address table
** 40K(*)
** Aging support
** Static MAC
* Reserved MAC pass through
* Link Aggregation
** 802.3ad with LACP
** Max number of group: 64
** Max member per group: 48
** Unicast/Multicast traffic balance
** LACP fallback
* VLAN
** IEEE 802.1Q
** Port-Based
** Q-in-Q
* Spanning Tree
** IEEE 802.1S
** Edge port (same as fast forwarding)
** BPDU Filter/Guard
** Loop Guard
* Storm Control
** Broadcast
** Unknown Multicast
** DLF (unknown unicast)
* Error Disable / Recovery
** MAC flapping
** Link flapping
** Storm control
** BPDU
** UDLD
* LLDP
* UDLD
* 802.3x Flow control
* Jumbo Frame
* FEC

Layer 3 Features
* L3 LAG
* L3 loopback
* L3 sub-interface
* IP ARP
** Aging support
** Retry count
* Proxy ARP / Local proxy ARP
* Static route
* 48-way ECMP
* BGP v4/v6
* VRRP v2
* OSPF v2
* BFD
* Source IP Configuration
* Policy-based Routing (PBR)
* IP Prefix List
* IP Community List
* Route map
* 64-bit ALPM routing mode support

Security
* Ingress ACL
* RADIUS
* TACACS+
* User authentication
** Local
** RADIUS/TACACS+
** AAA

QoS
* 8 cosq per port
* DWRR and Strict scheduling
* WRED-ECN
* Traffic shape

Management
* Industrial standard CLI
* CLI filtering, pagination and interface range
* Text-based configuration
* SSH
* SFTP/SCP
* Dual Image
* Incremental software update
* SNMP v2c/v3
* TFTP Server
* DHCP Client/Server/Relay
* Syslog
* Event log
* Audit Logs
* Utility: Remote ping, traceroute
* Diagnostic dump
* Supportability
* Core dump
* NTP Client
* sFlow
* SPAN / ERSPAN
* Zero Touch Provisioning
* Ansible Support
* Restful API
* Fast/Warm reboot

Data Center & SDN
* PFC
* DCBX(**)
* VxLAN/HW-VTEP
* OpenFlow 1.3.4
* CORD ready


*: table size is depended on ALPM settings
**: It is supported in the feature firmware upgrade
SONiC
* BGP
* ECMP
* LAG
* LLDP
* QoS - ECN
* QoS - RDMA
* Priority Flow Control
* WRED
* COS
* SNMP
* Syslog
* Sysdump
* NTP
* COPP
* DHCP Relay Agent
* SONiC to SONiC upgrade
* One Image
* VLAN
* ACL permit/deny
* IPv6
* Tunnel Decap
* Mirroring
* Post Speed Setting
* BGP Graceful restart helper
* BGP MP
* Fast Reload
* PFC WD
* TACACS+
* MAC Aging
* LACP Fallback
* MTU Setting
* Vlan Trunk
* IPv6 ACL
* BGP/Neighbor-down fib-accelerate
* Port breakout
* Dynamic ACL Upgrade
* SWSS Unit Test Framework (best effort)
* ConfigDB Framework
* Critical Resource Monitoring
* MAC Aging
* IPv6 ACL
* BGP/Neighbor-down fib-accelerate
* PFC WD
* gRPC
* Dtel support
* Sensor transceiver monitoring
* LLDP extended MIB: lldpremtable, lldplocporttable, lldpremmanaddrtable, lldplocmanaddrtable, lldplocporttable, lldpLocalSystemData
* Debian Kernel 4.9
* Warm Reboot
* Incremental Config (IP, LAG, Port shut/unshut)
* Asymmetric PFC
* PFC Watermark
* Routing Stack Graceful Restart
* Basic VRF and L3 VXLAN
* FRR as default routing stack
* Everflow enhancement
* Egress ACL bug fix and ACL CLI en-hancement
* L3 RIF counter support
* PMon Refactoring
* BGP-EVPN support(type 5), (related HLD Fpmsyncd,Vxlanmgr,template)