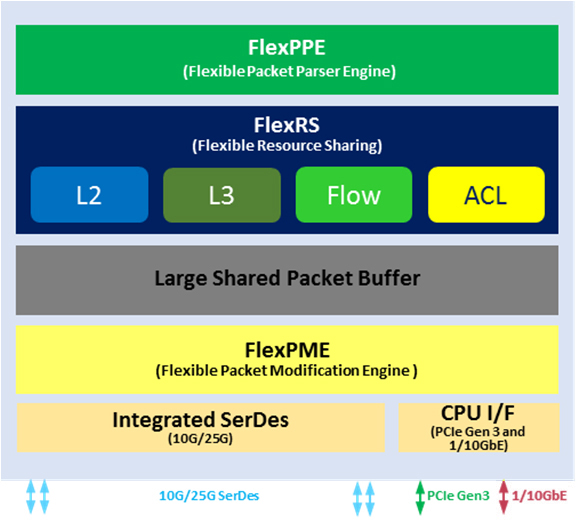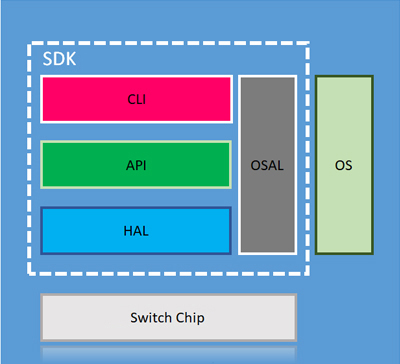 The Aurora 705 series is suited for Top-of-Rack/Spine Datacenter, Enterprise, and Cloud Service Provider network deployments with its wire speed L2/L3 switching and consistently low latency.
32x100GbE ports are backed by Nephos Taurus ASIC, each supporting 1 x 100 GbE or 1x 40 GbE or via breakout cables 4 x 25 GbE or 4 x 10 GbE.
The switch is loaded with ONIE installation environment for disaggregated networking, supporting an easy installation of any compatible NOS at any scale.
For the development purpose, the Aurora 705 offers a feature-rich SDK with:
Extensibility
Hardware Abstraction Layer across multiple chips
Portability
OS-independent: OS Abstraction Layer
Endian agnostic
64-bit-addressing
Easy to Debug
APIs to trouble-shoot SDK problems
APIs for chip diagnostic
Programmability
Wire-speed programmable deep packet classification, flexible and recursive match/result-actions, packet generation/modification, fungible match and result memory including real-time instrumentation, packet diagnostics, and state updates
Advanced L2-L5 programmable entropy with micro and jumbo flow-steering for better fabric utilization
Larger Service Scale: >800K IP addresses, >70K ACLs, push > 10 labels (MPLS or user-defined)
Granular Fungible Memories for all Tables and database result Memories (Flexible Shared Data structures for Forwarding, QoS, Instrumentation, and Security)
Leaf-Spine architecture
Aurora 705 is great for Spine tier, you can achieve a number of advantages over traditional Core/Aggregation/Access approach:
Two-tier fabric with near-optimal subscription ratio
Easy scale to hundreds of nodes
Energy Efficient
Low latency
Performance
32x 100/50/40GbE QSFP28 ports in 1 RU
Up to 128x 25/10G SFP28 port via break-out cables
3.2Tbps Nephos Taurus NP8367
28MB packet buffer size
Intel® Xeon® Processor D-1527 quad core processor for application deployment
Up to 16GB of DDR4 memory (8GB default)
Reliable hardware platform
Redundant 1200W 1+1 power supplies
Redundant N+1 cooling
Network OS (NOS) options
Open Network Linux is a Linux distribution for "bare metal" switches, that is, network forwarding devices built from commodity components. ONL uses ONIE to install onto on-board flash memory. Open Network Linux is a part of the Open Compute Project and is a component in a growing collection of open source and commercial projects.
Microsoft SONiC - a collection of networking software components required to have a fully functional L3 device. It is designed to meet the requirements of a cloud data center. It is fully open-sourced at OCP.
Specification
Ports
32x 100/50/40GbE QSFP28 ports in 1 RU
Up to 128x 25/10G SFP28 ports via break-out cables
1x RJ-45 out-of-band (10/100/1000) management
1x RJ-45 console (RS232)
1x USB
Front IO
Fan LED
System status LED
PSU1 status LED
PSU2 status LED
Reset button
Service tag
Performance
Switching silicon: 3.2Tbps Nephos Taurus NP8367
Larger Service Scale: >800K IP addresses, >70K ACLs, push > 10 labels (MPLS or user defined)
Wire-speed programmable parsing with FlexPPE architecture
Packet Buffer: 28MB
Intel® Xeon™ Processor D-1527
8GB DDR4 ECC (up to 16GB)
128GB SSD
Power
550W 1+1 RPSU 80+ Platinum:
100V~240V AC / 50~60Hz
240V DC


Typical/Max power draw: 350/415W Watts (with optics)
Cooling
4 N+1 redundant fans
Front-to-Back/Back-to-Front airflow
Dimensions (DxWxH)
1U, 430 x 440 x 44 mm
Rackmount kit
Environment
Operating temperature: 0~45°C
Operating humidity: 20-95% maximum relative humidity (non-condensing)
Warranty
3 year
EMC and safety
FCC
CE Declaration of Conformity
Reduction of Hazardous Substances (RoHS) 6

Compatible NOS
Open Network Linux
Microsoft SONiC
SONiC
* BGP
* ECMP
* LAG
* LLDP
* QoS - ECN
* QoS - RDMA
* Priority Flow Control
* WRED
* COS
* SNMP
* Syslog
* Sysdump
* NTP
* COPP
* DHCP Relay Agent
* SONiC to SONiC upgrade
* One Image
* VLAN
* ACL permit/deny
* IPv6
* Tunnel Decap
* Mirroring
* Post Speed Setting
* BGP Graceful restart helper
* BGP MP
* Fast Reload
* PFC WD
* TACACS+
* MAC Aging
* LACP Fallback
* MTU Setting
* Vlan Trunk
* IPv6 ACL
* BGP/Neighbor-down fib-accelerate
* Port breakout
* Dynamic ACL Upgrade
* SWSS Unit Test Framework (best effort)
* ConfigDB Framework
* Critical Resource Monitoring
* MAC Aging
* IPv6 ACL
* BGP/Neighbor-down fib-accelerate
* PFC WD
* gRPC
* Dtel support
* Sensor transceiver monitoring
* LLDP extended MIB: lldpremtable, lldplocporttable, lldpremmanaddrtable, lldplocmanaddrtable, lldplocporttable, lldpLocalSystemData
* Debian Kernel 4.9
* Warm Reboot
* Incremental Config (IP, LAG, Port shut/unshut)
* Asymmetric PFC
* PFC Watermark
* Routing Stack Graceful Restart
* Basic VRF and L3 VXLAN
* FRR as default routing stack
* Everflow enhancement
* Egress ACL bug fix and ACL CLI en-hancement
* L3 RIF counter support
* PMon Refactoring
* BGP-EVPN support(type 5), (related HLD Fpmsyncd,Vxlanmgr,template)