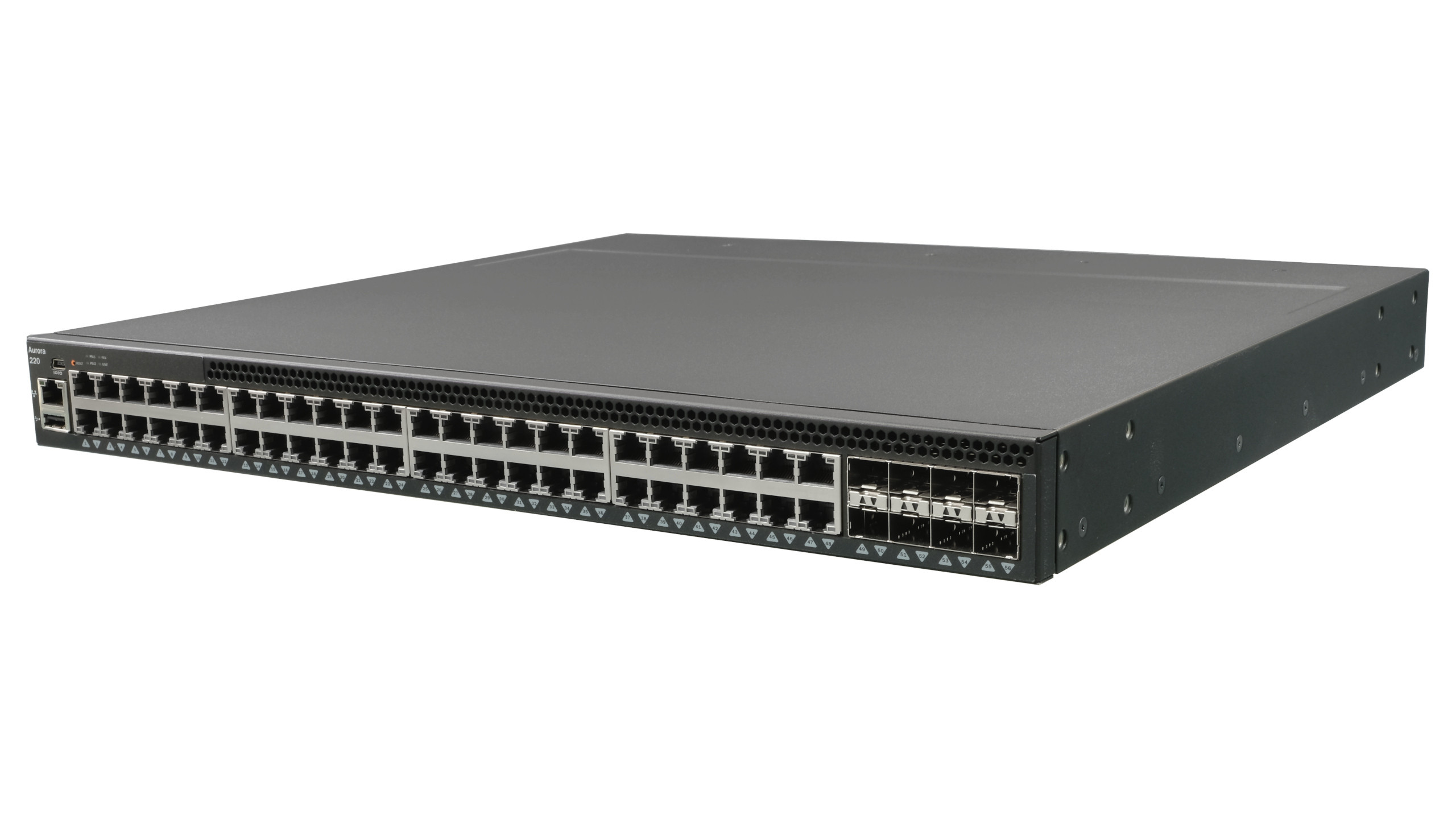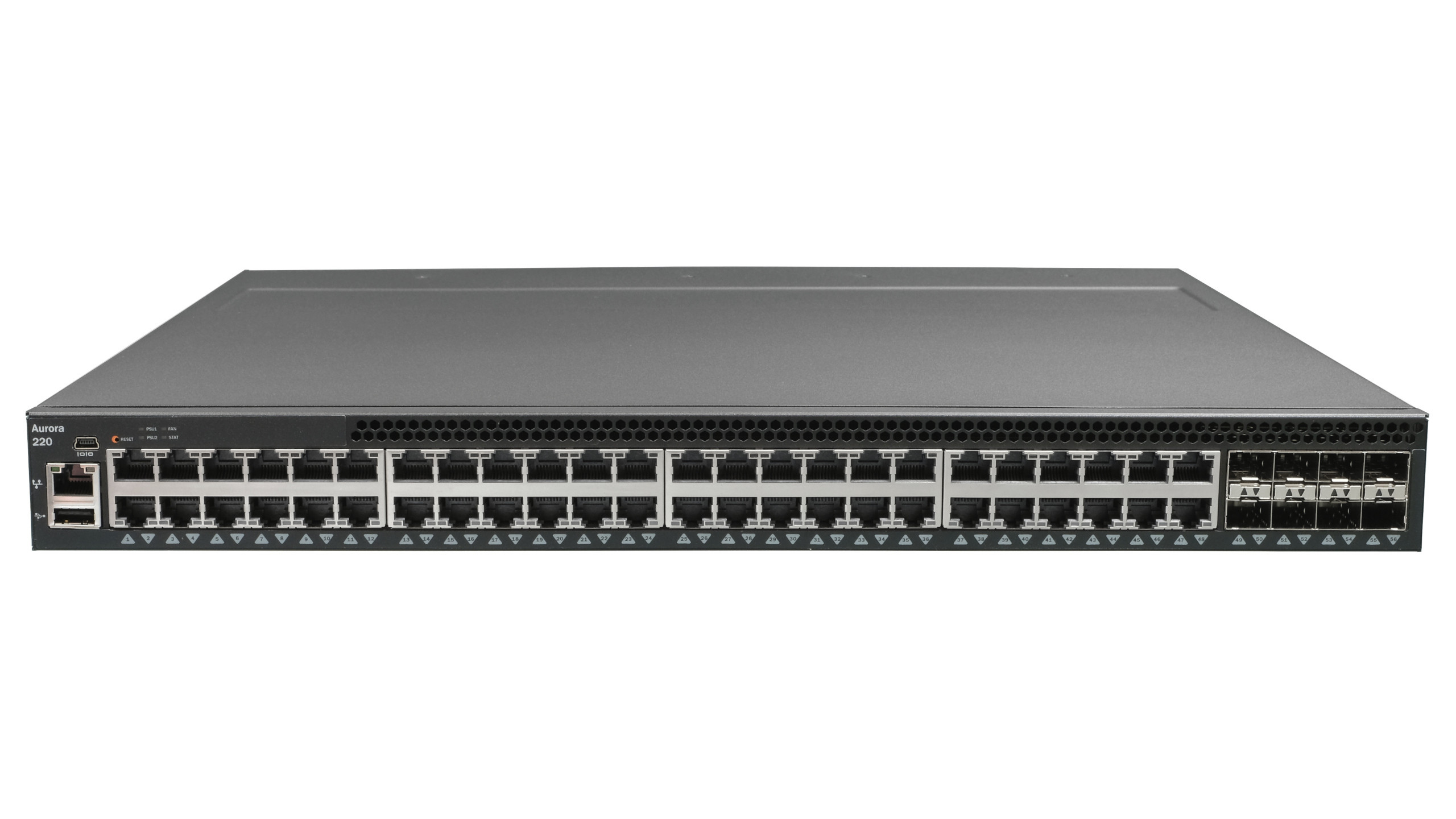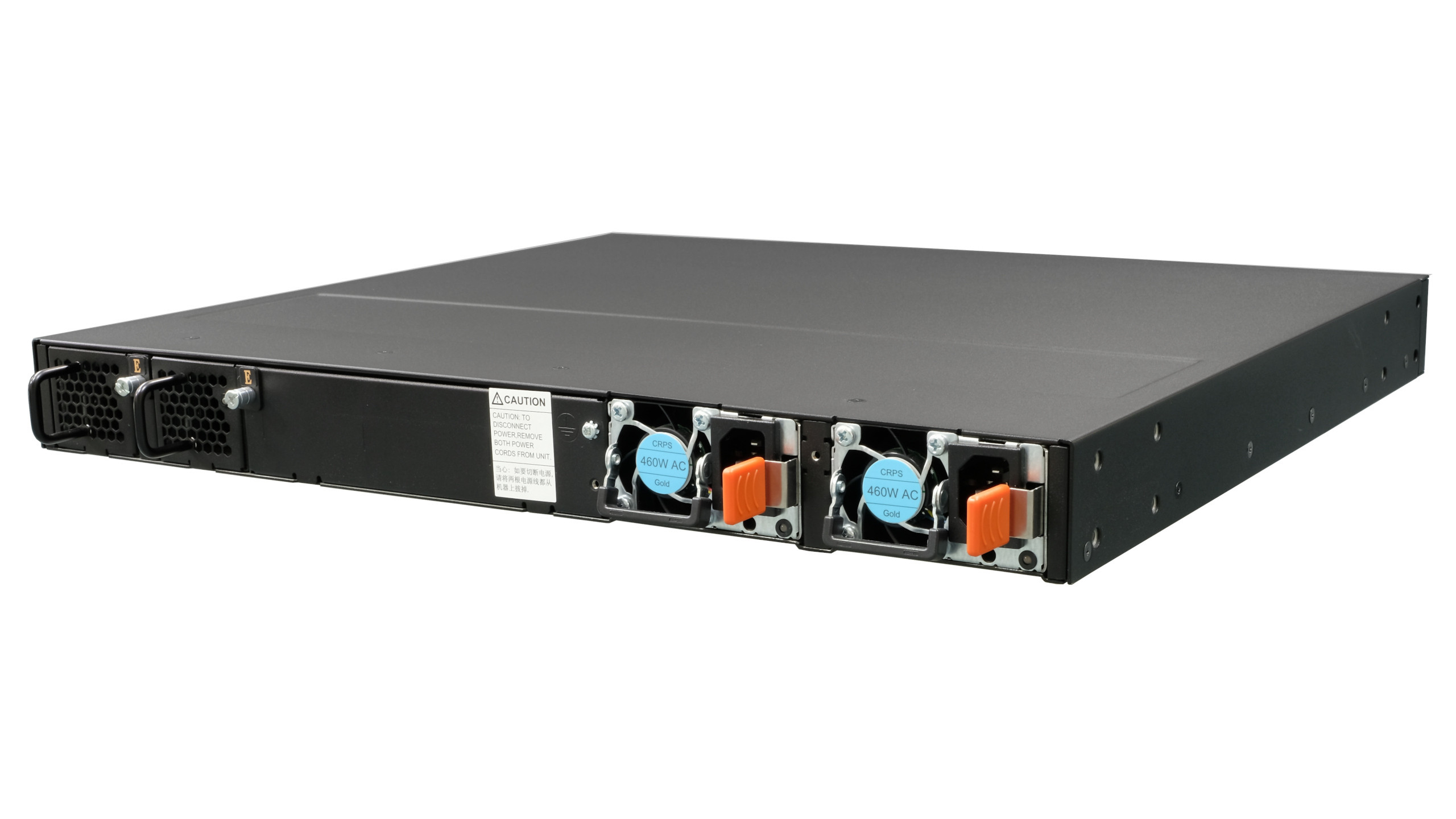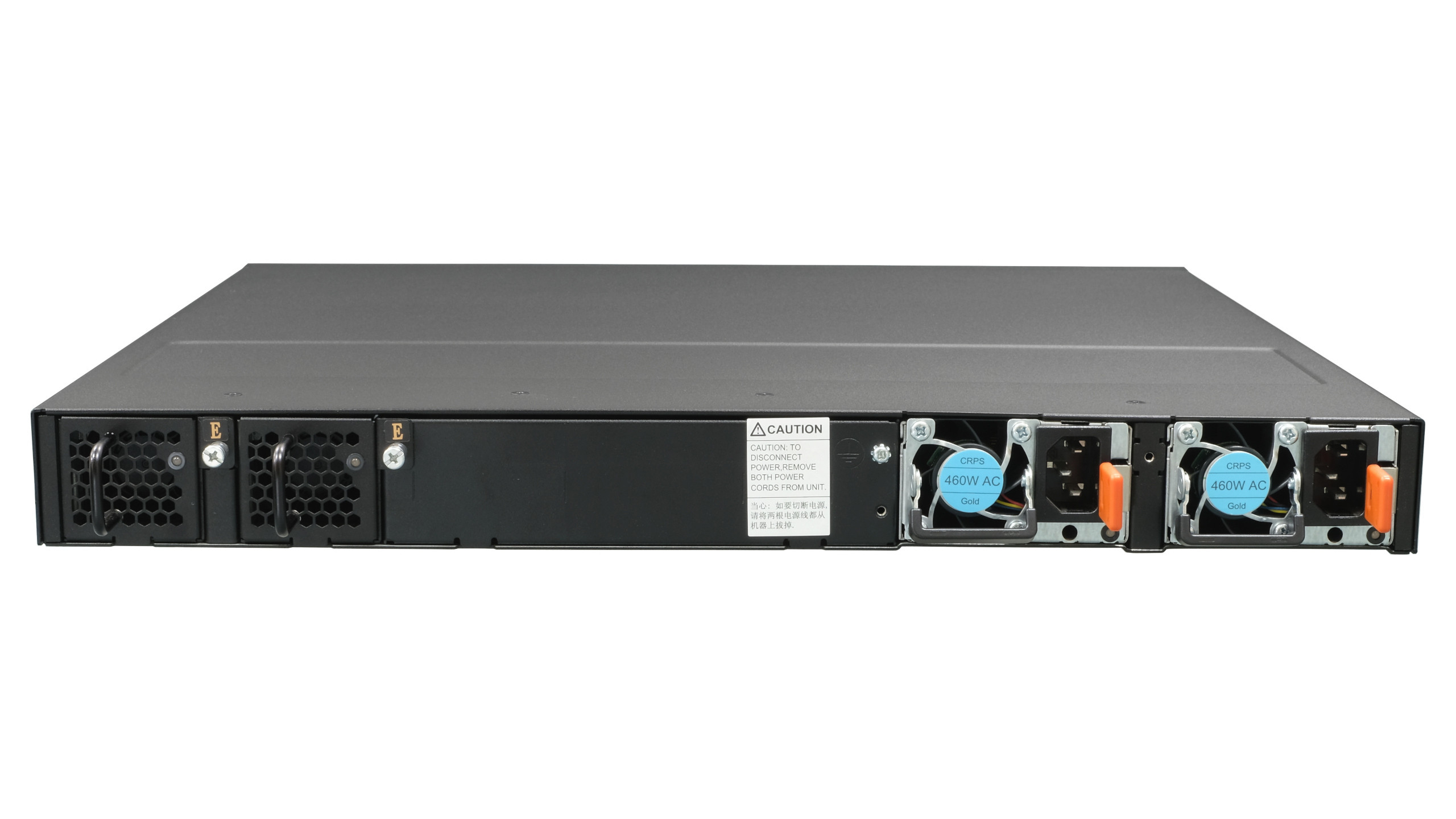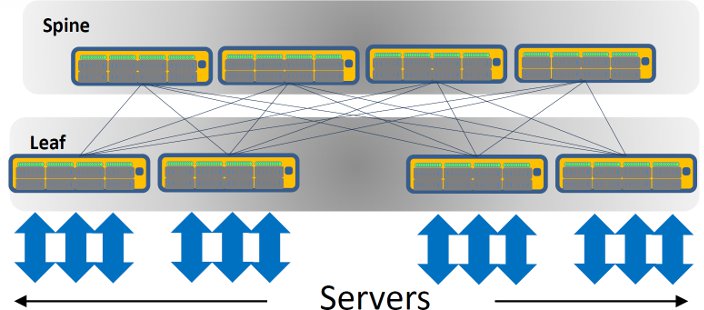 Simple yet powerful, Netberg Aurora 220 switch is made for L3 environments with an open approach. 48x 10Base-T/100Base-T/1000Base-T ports are accompanied by 8x 1/10G SFP+ ports for uplinks or storage connection. It's unique port configuration allows to build flexible network architectures in data center or enterprise environment, where all-10G connection is not required yet.
Built around Broadcom Helix4 silicon and embedded ARM CPU, the Aurora 220 decrease CAPEX to almost traditional L2 switch level.
This affordable switch with the advanced feature set, solid performance, and high-availability capabilities will be a perfect fit for an SMB, Enterprise, and Data Center environments.
Available in Back to Front (BtoF) and Front to Back (FtoB) airflow configurations.
Leaf-Spine architecture
With new networking paradigm in modern DC, Aurora 220 is great for Leaf tier. You can achieve number of advantages over traditional Core/Aggregation/Access approach:
Two-tier fabric with optimal subscription ratio
Easy scale to hundreds of nodes
Energy Efficient
Lower latency
Simplified deployment
Feature-rich ICOS NOS with industry standard CLI allows fast and efficient deployment in any environment.
Performance
48x 10Base-T/100Base-T/1000Base-T + 8x 1/10G SFP+ in 1 RU
Switching silicon: 256Gbps Broadcom Helix4 BCM56344
Forwarding rate: 190Mpps
ARM embedded CPU, 1 GHz
Reliable hardware platform
Redundant 460W 1+1 power
Redundant N+1 cooling

Network OS (NOS) options
Broadcom ICOS - Web-scale NOS with traditional L2/L3 functions and management, with an API structure for third-party apps and integration with provisioning and orchestration systems
Specification
Ports
48x 10Base-T/100Base-T/1000Base-T (IEEE P802.3ab)
8x 1/10G SFP+
1x RJ-45 out-of-band (10/100/1000) management
1x mini-USB console
1x USB
Front IO
Fan LED
System status LED
PSU1 status LED
PSU2 status LED
Reset button
Performance
Switching silicon: 256Gbps Broadcom Helix4 BCM56344
Forwarding rate: 190Mpps
ARM embedded CPU, 1 GHz
2GB DDR3 ECC
2GB NAND flash
Routing Table: Uniform MAC/VLAN/L3 hosts up to 96K,
LPM: 16K IPv4
Jumbo Packet: 12K bytes
Power
460W 1+1 RPSU
100V~240V AC / 50~60Hz
Cooling
2 N+1 redundant fans
Front-to-Back/Back-to-Front airflow
Dimensions (DxWxH)
1U, 400 x 440 x 44 mm
Rackmount kit (option)
Environment
Operating temperature: 0~45°C
Operating humidity: 20-95% maximum relative humidity (non-condensing)
Warranty
3 year
EMC and safety
FCC
CE
CE Declaration of Conformity
Reduction of Hazardous Substances (RoHS) 6

Compatible NOS
ICOS
Broadcom ICOS
ICOS 3.0 software stack implementation. To be updated along with the development.

Layer 2 features
Link aggregation:
* 802.3ad with LACP
* Max number of group: 8
* Unicast/Multicast traffic balance
* Virtual Port Channel (MLAG)

VLAN:
* IEEE 802.1Q
* Port-Based
* Private VLAN
* Voice VLAN

Spanning Tree:
* IEEE 802.1D
* IEEE 802.1w
* IEEE 802.1s
* Spanning Tree Fast Forwarding
* Edge port (same as Fast Forwarding)
* Auto Edge
* BPDU Filter/Guard
* Loop Guard
* TCN Guard
* Root Guard

Storm Control:
* Broadcast
* Unknown Multicast
* DLF (Unknown Unicast)

IGMP Snooping:
* IGMP Snooping v1/v2/v3
* IGMP v1/v2 querier support
* IGMP Immediate Leave
* MLD Snooping
* Jumbo frame
* IEEE 802.3x Flow Control
* Q-in-Q

IPv6
* V4/V6 dual stack
* ICMPv6
* ICMPv6 redirect
* IPv6 Path MTU Discovery
* IPv6 Neighbor Discovery
* Stateless Autoconfiguration
* Manual Configuration
* DHCPv6
* SNMP over IPv6
* HTTP over IPv6
* SSH over IPv6
* IPv6 Telnet support
* IPv6 DNS resolver
* IPv6 RADIUS support
* IPv6 TACACS+ support
* IPv6 Syslog support
* IPv6 SNTP support
* IPv6 TFTP support
* Remote IPv6 ping

QoS features
* Number of priority queue: 8
* Scheduling:
** WRR
** Strict priority
** Hybrid (WRR+Strict priority)
* CoS:
** 802.1p-based CoS
** IP TOS Precedence based CoS
** IP DSCP based CoS
* DiffServ:
** 32 classes
** 13 rules per class
** No. class in policy: 64
** No. policy in class: 28
* Auto VoIP

Layer 3 Features
* Number of IP interfaces: 128
* Multinetting/CIDR
* /31 subnet support
* IP ARP
* Proxy ARP
* Local proxy ARP
* IRDP
* Static route
* ECMP
* OSFP v2/v3
* BGP v4/v6
* Multicast:
** Multicast groups
** IGMP v1/v2/v3
** MLD v1/v2
** DVMRP
** PIM-DM v4/v6
** PIM-SM v4/v6
** IGMP proxy
* VRRP
* Loopback
* Routes:
** IPv4
** IPv6
** ARP entry
** ND entries
** IP IGMP/MLD
** PIM-SM/DM v4/v6
** DVMRP
* Source IP configuration
* Policy-based routing (PBR)
* IPv6 Tunneling
* IPv6 Loopback
* DHCPv6 relay
* DHCPv6 server

Security
* Static/Dynamic Port Security (MAC-based)
* 802.1x:
** Port based
** MAC based
** VLAN assignment
** Guest VLAN
** Unauthenticated VLAN
** QoS assignment
* ACL:
** L2: MAC SA/DA, CoS, EtherType
** L3: IPv4 SA/DA, subnet based
** L3: IPv6 SA/DA, flow-label, DSCP
** L4: TCP/UDP port
** Time-based ACL
* RADIUS:
** Authentication
** Accounting
* TACACS+:
** Authentication
* HTTPS & SSL
* SSH 1.5/2.0
* User authentication:
** Local
** RADIUS/TACACS+
** AAA
* DoS control
* MAC filter
* IP Source Guard
* Dynamic ARP inspection
* DHCP snooping
* Control Plane Policy (CoPP)

Management
* Industry standard CLI
* CLI filtering
* Telnet/SSH
* Software/configuration upload/download using TFTP/XMODEM/HTTP/FTP/SCP/SFTP
* Dual image
* SNMP v1/v2c/v3
* RMON 1,2,3,9 groups
* BOOTP client/relay
* DHCP:
** Client
** Server
** Relay
** L2 option 82 relay
** L3 option 82 relay
* Event log
* DNS client
* Utility: remote ping, traceroute
* SNTP v4
* LLDP: 802.1AB, 802.MED
* CDP
* UDLD
* Port mirroring:
** SPAN: one-to-one, many-to-one
** SPAN with ACL filter
** SPAN with VLAN
** RSPAN
* sFlow v5
* Cable test
* Email alerting
* Auto install
* RESTCONF interface
* NetSNMP

Data Center
* Congestion Notification (CN)
* ETS
* PFC
* OpenFlow 1.0
* OpEN API
* Puppet/Chef support