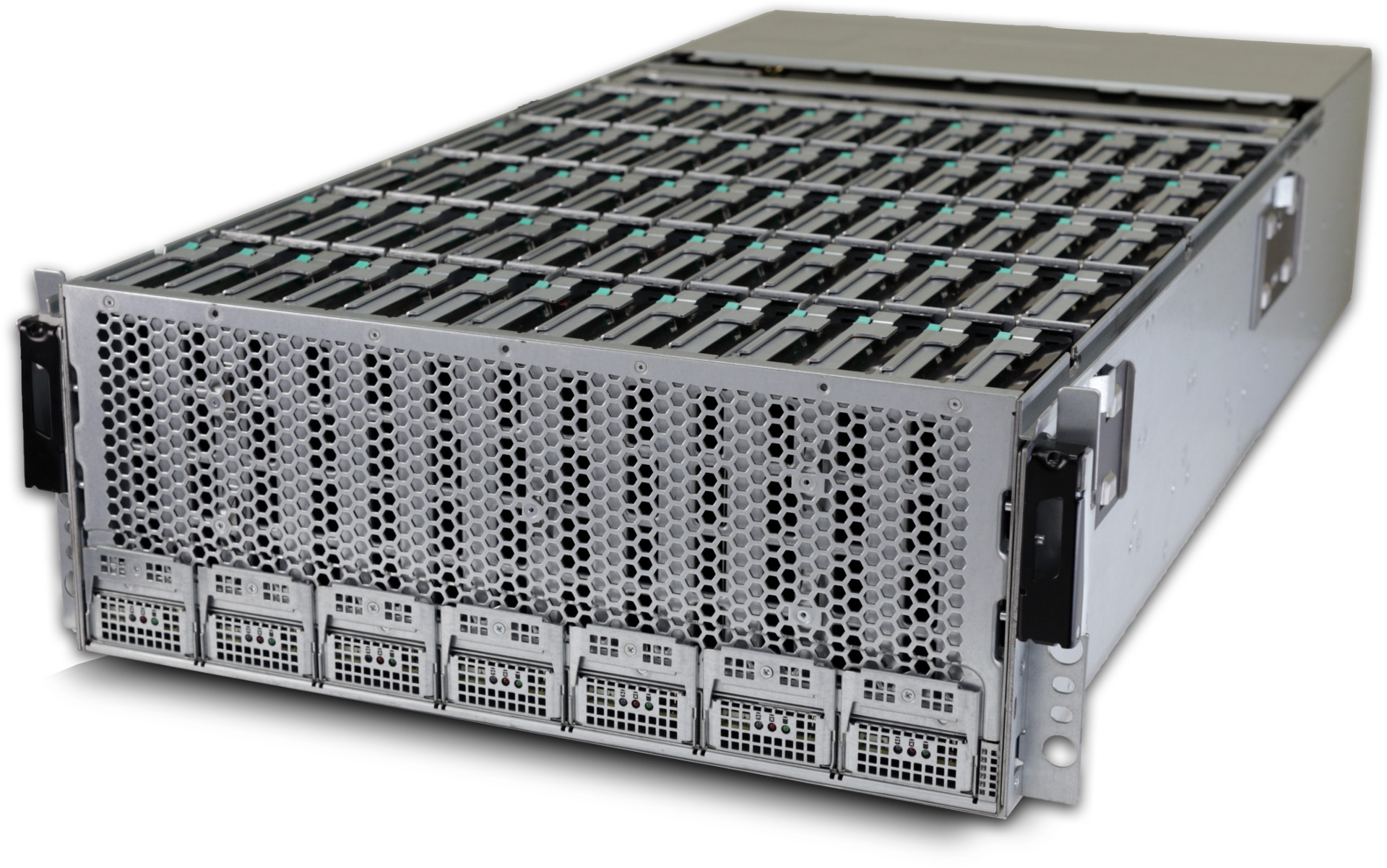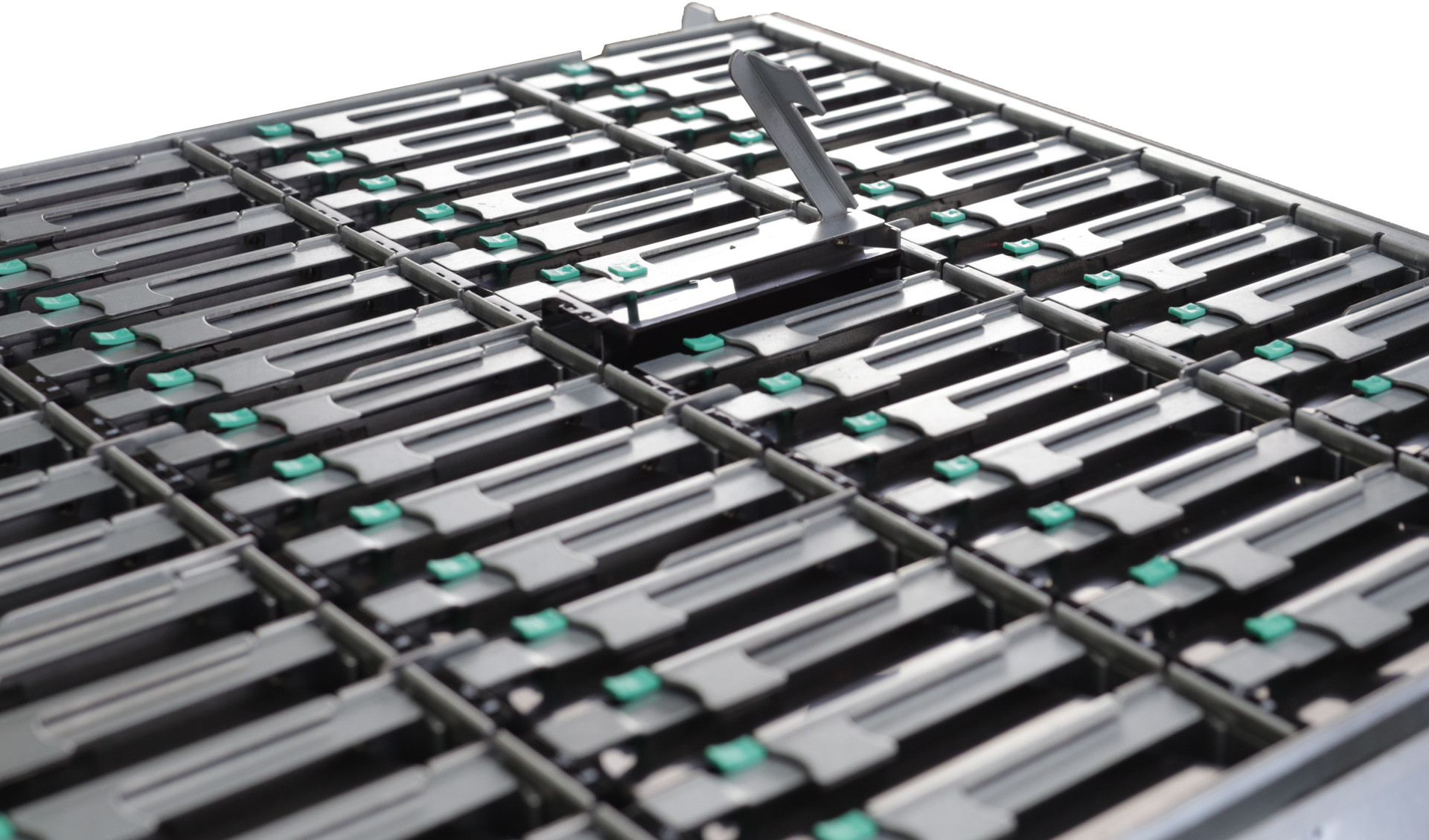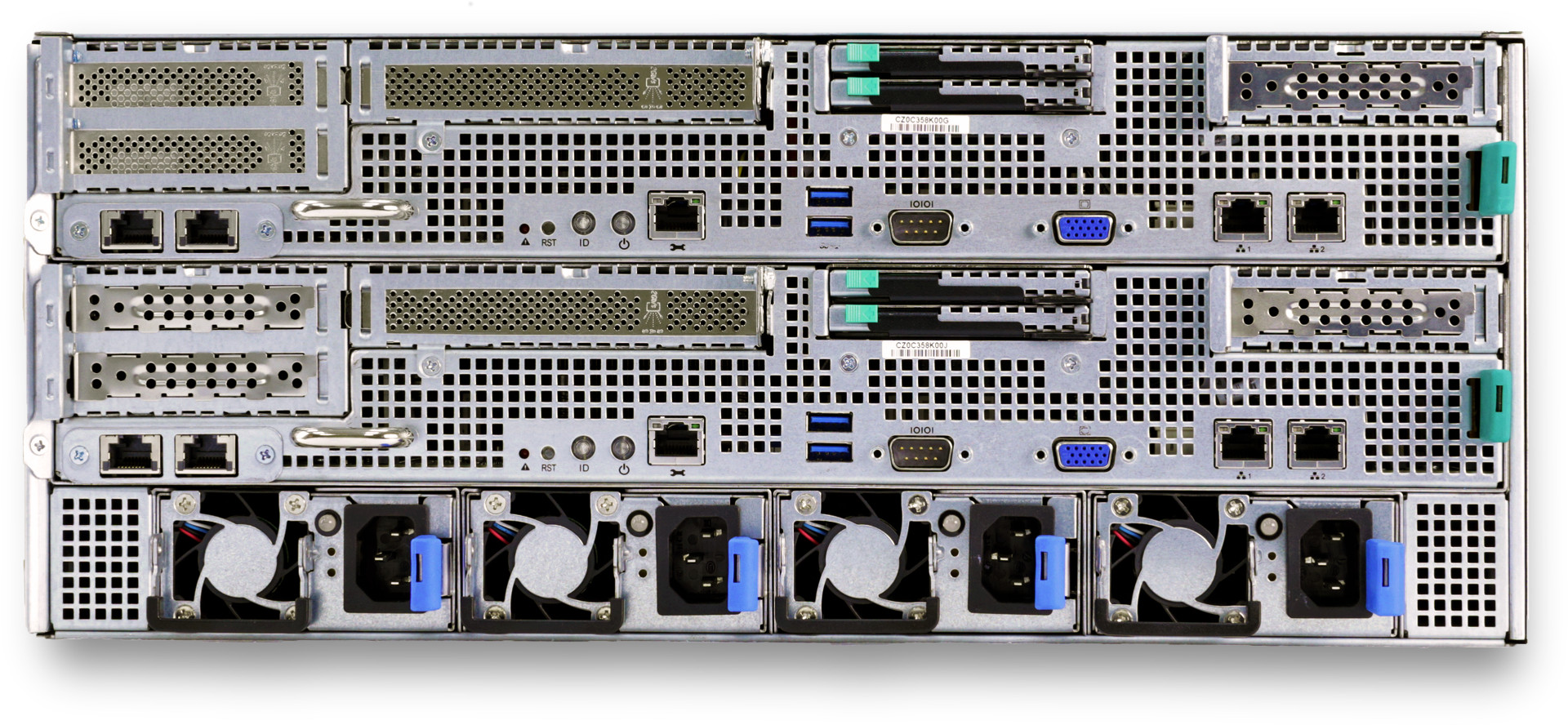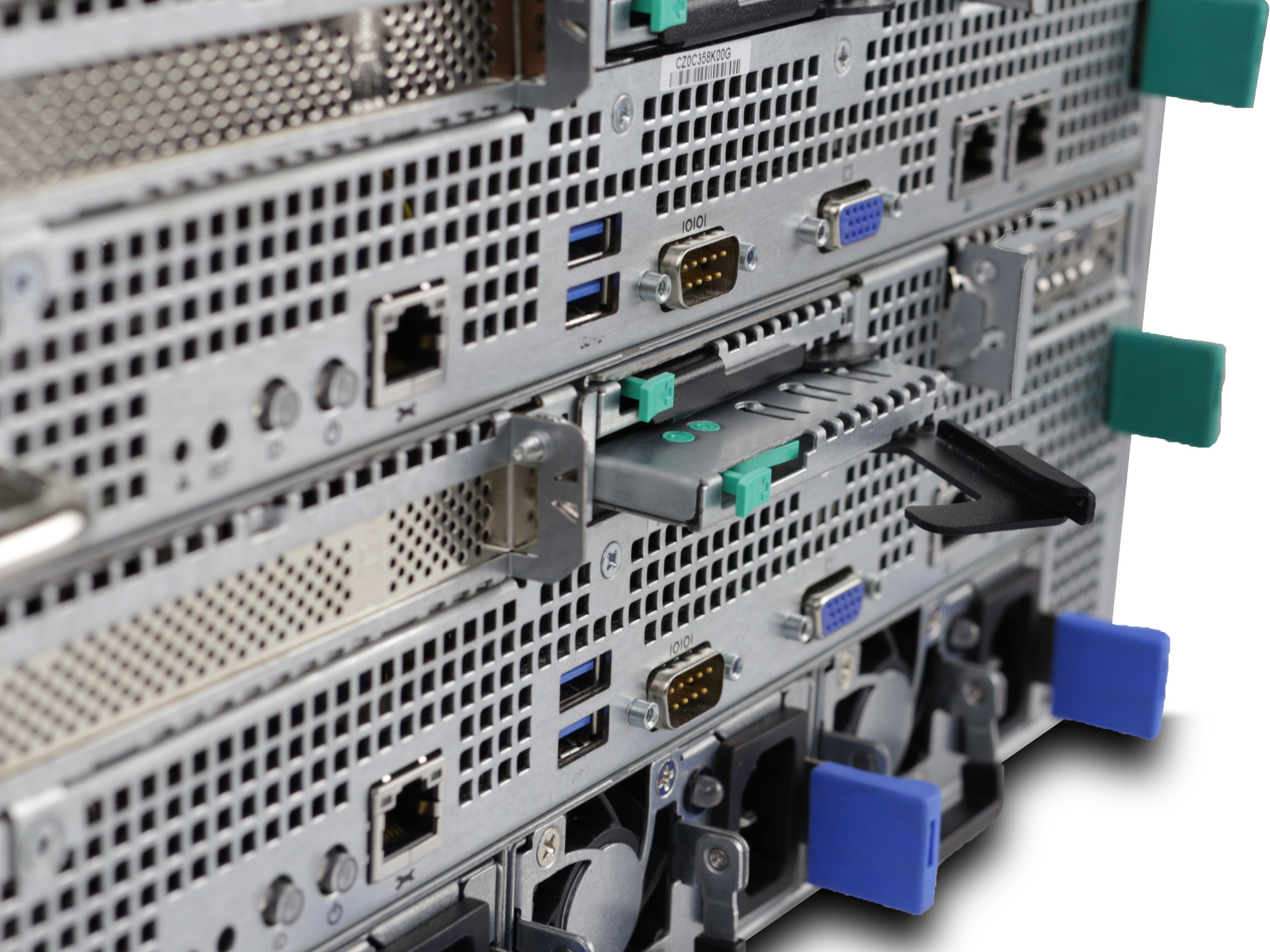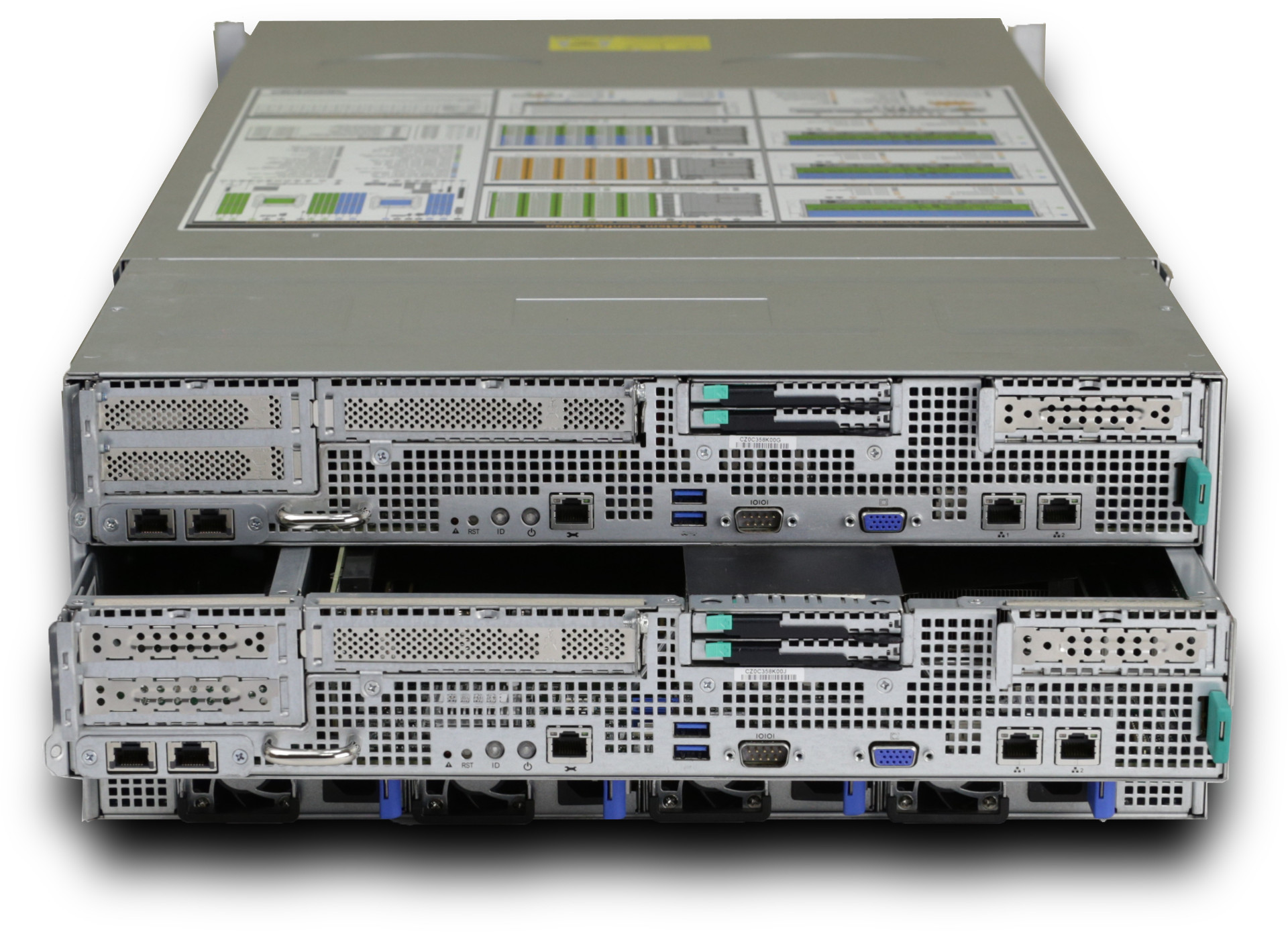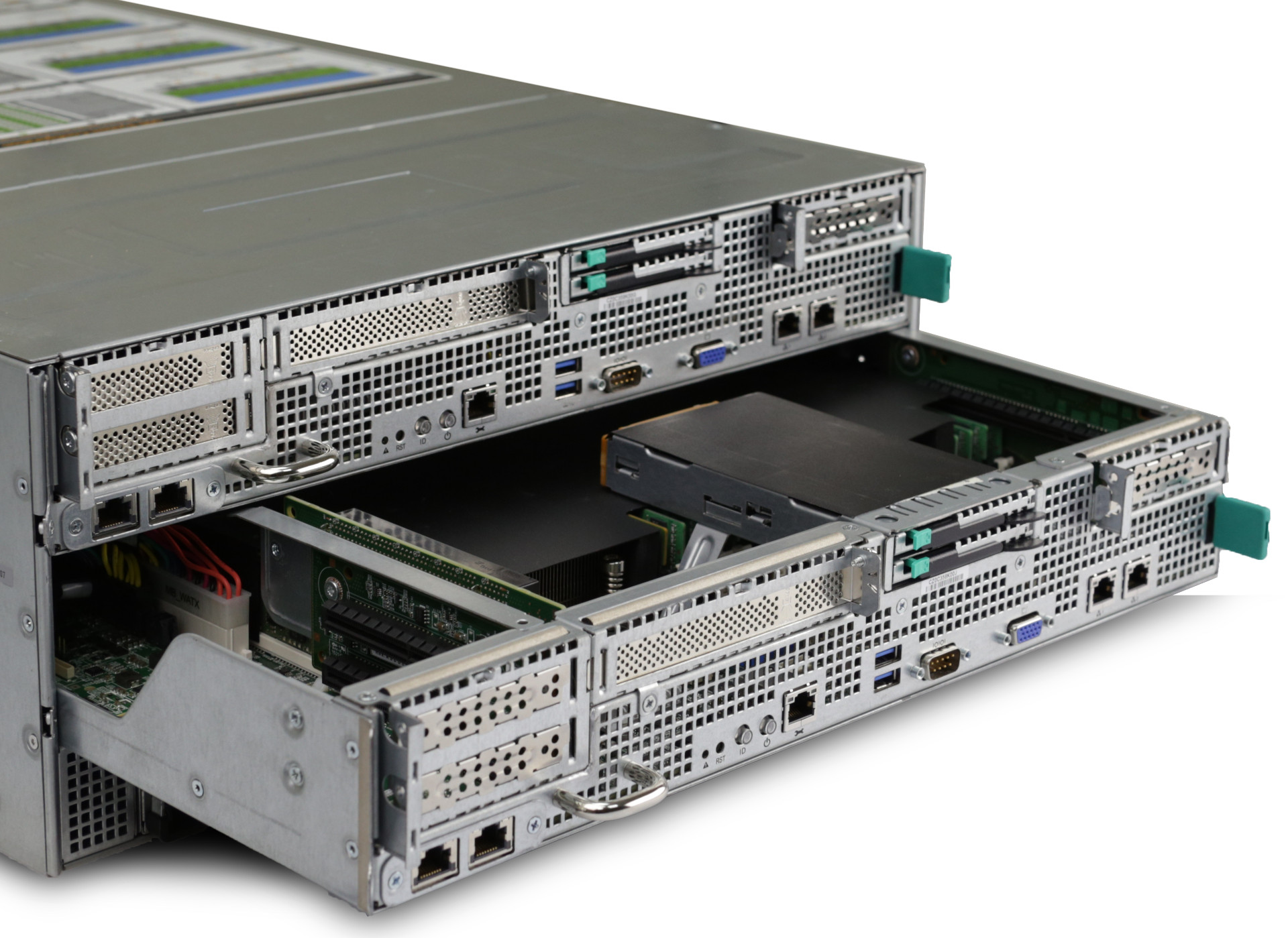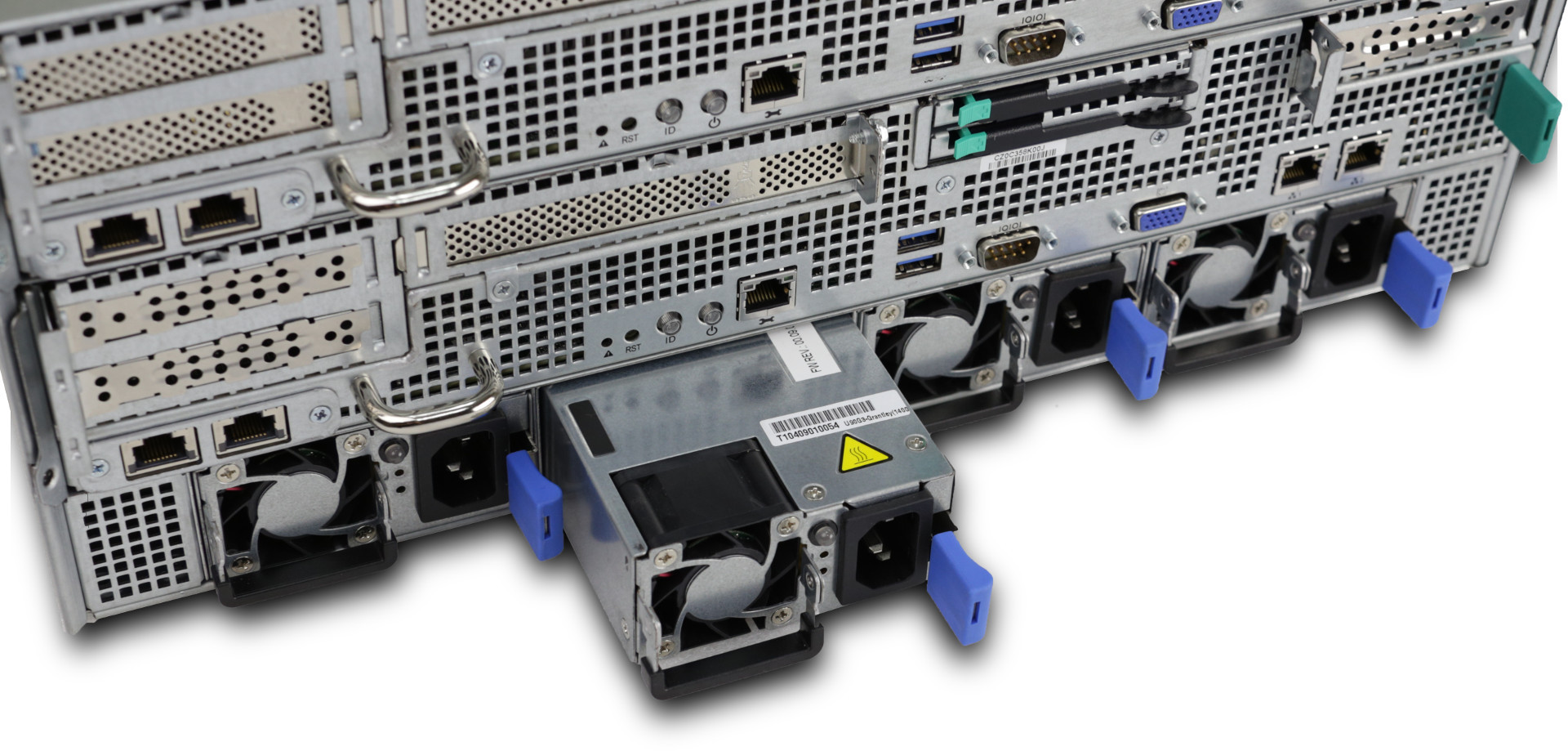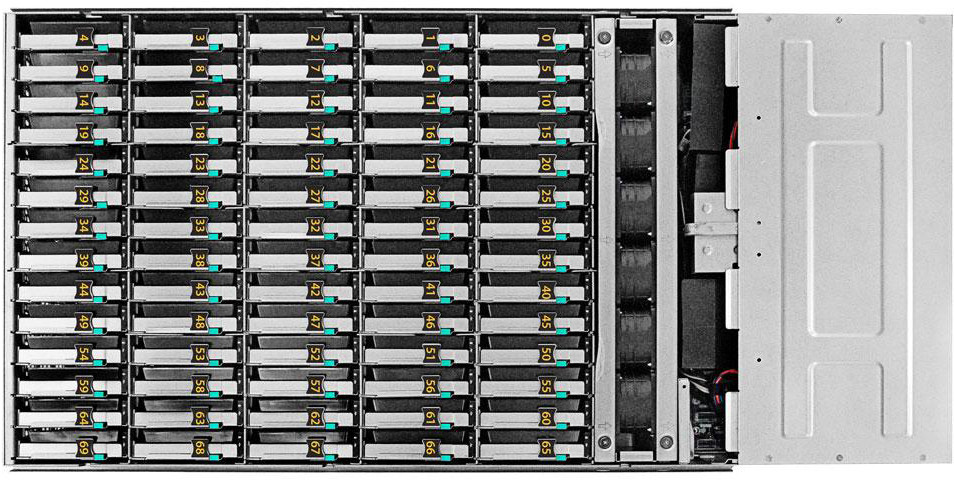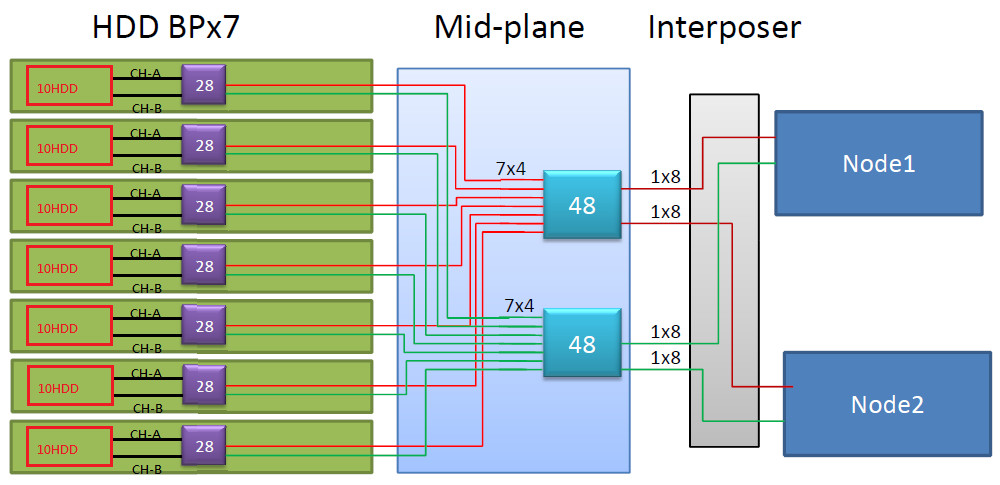 Netberg Demos R430 M2 storage server with Intel Xeon processors E5-2600 V4 series and 12G SAS back-end is designed primarily for Big Data processing, Datacenters and cloud computing. Enormous density and solid IO are the main features that supplemented with availability, expandability, ease of use and management.
Performance
Netberg Demos R430 M2 has a super compact design supporting 74 disks with hot-swap, in just 4U chassis. Furthermore, the server is fitted with two motherboards (nodes), each having access to seventy 3.5" disks and two dedicated 2.5" disks from the server's rear.
Demos R430 M2 support up to 1TB of energy-efficient DDR4 memory with up to 40% more bandwidth over previous DDR3 technology. The Intel Xeon Processor E5-2600 v4 product family adds 50 percent more cores and cache over the previous generation and includes numerous other hardware enhancements, such as Intel® Advanced Vector Extensions 2 (Intel® AVX2) and Intel® Quick Path Interconnect link (QPI). These innovations deliver up to 2.2X the performance over the previous generation, significantly boosting output across a broad set of workloads.

What is, even more, important for modern brisk business, the Intel Xeon Processor E5-2600 v4 product family also delivers an increase in virtualization density of up to 1.6X compared to the previous generation. Now you can prevent VM sprawl and build solid highly available basement for your business in the single compact 4U box.
12G SAS doubles the bandwidth available from the drives over Demos R430 M1 model, enabling better utilization of SAS SSD drives.
Cluster-in-a-Box capability
Sophisticated SAS topology is implemented to provide dual path access to all 70 hard drives from both server nodes.

Build yours highly available SAS cluster with Windows Storage Spaces and Linux cluster with ZFS!
Additional PCIe x16 slot is available for dedicated Inter-node communication card without performance limits. This architecture allows HA cluster mode with blazing fast VM migration in Microsoft Hyper-V or Linux on top of it.
Expandability
Netberg Demos R430 M2 comes with five expansion slots that can be used for disk controllers and increase of communication capabilities. This provides the maximum flexibility needed to build a perfect Big Data processing system, with allowance for specific application requirements.
Management
Netberg Demos R430 М2 servers are equipped with service processors that provide complete hardware monitoring of system status using a standard Web browser.
An intuitive interface allows the user to perform all operations to deploy, configure, monitor, diagnose, renew and control servers.
KVM over IP and Virtual Media technologies help system administrators significantly reduce labor costs related to a server control, decrease the number of CD/DVD media with software and install OS on many servers simultaneously through the platform's secure hardware tools.
Ease of use
A well-thought-out component layout, hot-swap support for hard disks and power supply units, fast and easy replacement of server's motherboards, cable organizer, optimized server deployment tools and installation in a rack without the use of additional tools make the Netberg Demos R430 М2 server a unique offer in the Big Data market.
Energy efficiency
Intel Power Thermal Aware Solution (PTAS) technology perform real-time OOB data collection and control. Datacenter Manager (DCM) software optimize component power consumption and cooling load to simplify data center infrastructure management, decreasing CapEx and OpEx.
Specification
Model
Netberg Demos R430 M2
Application
Big Data storage and processing, cloud storage, Content Delivery Network (CDN), HA storage cluster, cloud-in-a-box
Chipset
Intel C610
CPU
1 or 2 Intel Xeon E5-2600 v3/v4 (per node), up to 120W TDP
Memory
Up to 1 TB DDR4 ECC Reg/16 memory slots (per node)
Embedded controller
-
Optional controllers
SAS HBA
10/25/40/100G Ethernet
InfiniBand HCA
Storage
70 x 2.5"/3.5" SAS/SAS SSD hot-swap (12G SAS shared, dual path access)
2 x 2.5" 7mm SATA hot-swap per node
VGA
ASPEED 2400M, 64 MB
Expansion (per node)
1x PCI-Express 3.0 x8 OCP Mezz (from CPU1)
2x PCI-Express 3.0 x8 LP (from CPU1)
1x PCI-Express 3.0 x16 (from CPU1)
1x PCI-Express 3.0 x16 LP (from CPU2)
Networking
2 x Intel® Powerville I350 1G BaseT RJ45

2x Intel® 82599 10G SPF+ OCP mezzanine (default)
2x Intel® X540 10G Base-T OCP mezzanine (option)
Interfaces
Rear (per node):
VGA, RS232
2 x 10G SFP+
2 x RJ45
1 x RJ45 (management)
2 x USB 3.0
Management
IPMI 2.0, KVM over IP, Virtual Media, dedicated Ethernet port
Supported OS
Microsoft Windows® Server 2012 R2 family
Linux HA clustering with ZFS
Raidix Data Storage Software
Power supply
1400W redundant, hot plug (2+2), Intel Node Manager 2.0 and Intel Datacenter Manager (DCM) compatible
100V~240V AC / 50~60Hz
Cooling
12 heavy-duty PWM fans with optimal fan speed control
Environmental
Operating relative Humidity: 10–90%
Operating temperature: 10–35 °C
Dimensions (D x W x H), mm
4U
900 x 430 x 175